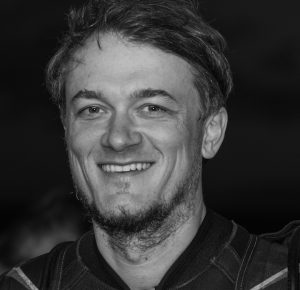 Dragan works on using the DES data to test the currently favored cosmological model.
We are looking for internal consistency of the model – whether certain relations between the observed quantities, predicted by the model, are obeyed. Searching for new physics due to dark energy is what the DES is all about, and these internal consistency tests have potential to advance our understanding of why the expansion of the universe is accelerating.
---
We asked Dragan a few more questions — here's what he had to say:
What is your favorite space-related image, and why?
My favorite space-related image is that of dark energy itself – a completely dark image, all black pixels. Kazimir Malevich type painting.
Do you have kids? Do they want to be scientists too?
I have a 3-yr old girl and 1-yr old boy. I do hope they become scientists! Right now we are at the stage of talking about dinosaurs and, astronomy-wise, looking at the moon at night.
Any advice for aspiring scientists?
Study math and physics – they are fun. Watching videos and documentaries and reading popular books is a great way to start, but to start really working toward becoming a scientist, courses and instruction in math and physics are the only known way to go.