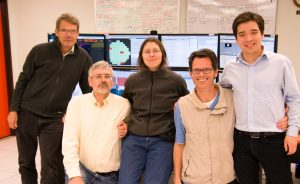 Rich Kron is the Project Director of the Dark Energy Survey. Before becoming Director in 2018, he had been Deputy Director since 2010. Rich has experience leading big survey projects. He was Director of the Sloan Digital Sky Survey (in several ways the predecessor to DES) from 2003-2008. As Director, he manages many facets of DES and makes sure the project is on track to meet its various science goals. Rich is also a Professor at the University of Chicago, and a scientist at Fermi National Laboratory. His specific scientific interests include galaxy evolution and developing ways to measure light from very faint sources.
---
We asked Rich a few questions. Here's what he had to say:
When did you know you wanted to be a scientist? What factors influenced that choice?
Both of my parents were astronomers and I grew up on Mt. Hamilton (Lick Observatory). One sibling became a paleontologist, the others became musicians, so becoming a scientist was not inevitable. Nevertheless, by the time I was an undergraduate I was in a physics track.
Do you have any hobbies or take part in sports?
A long-time hobby has been 35 mm black-and-white film photography and darkroom printing. I received Best Film award in 2013 for a short video in the "I Was a Teenage Film School Dropout Film Festival."
What is your favorite space-related image, and why?
Not sure I have a single favorite, but here is one that I find intriguing: Albrecht Duerer's painting of around 1496. It strikes me as mystical and abstract, ahead of its time. https://commons.wikimedia.org/wiki/File:Albrecht_durer_heavenly_body_in_the_night_sky.jpg
What do you think has been the most exciting advance in physics / astronomy in the last 10 years?
The discovery of gravitational waves from massive merging black holes.
When you were an undergrad in physics, was there anything you were taught then that is not taught now?
I was taught that Jupiter had 12 (or was it 16?) satellites and that the expansion of the Universe was decelerating.
Any advice for aspiring scientists?
If anyone tells you that you can't do something, don't listen to them!