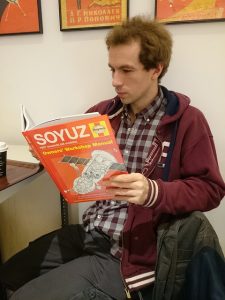 Ed is currently working on modeling the effects of gravitational lensing and peculiar velocities for the DES supernova program. This should allow us to use the supernovae in DES to test dark energy in a completely independent way, using a signal which is often just considered as noise. More generally, he's especially interested in developing new methods to analyse cosmological surveys, and combine results from different techniques together, in order to find novel independent tests of dark matter and dark energy.
---
We asked Ed a few more questions — here's what he had to say:
What do you think has been the most exciting advance in science / technology in the last 10 years?
I'm really excited by the SpaceX rocket landings. It's an incredible technical accomplishment, it's just amazing seeing the boosters landing on the ships in the middle of the ocean. If this leads to a lower cost of sending payload to orbit it would certainly open up all kinds of new possibilities for physics and astronomy.
Any advice for aspiring scientists?
I'd recommend trying to get as much experience as possible: look for local outreach events, get in touch with a department and see if you could visit, or see about arranging a placement.
I'd also recommend learning the Python programming language. For many fields in science and technology, it's an essential technical skill which will be directly useful. More broadly, it's also a good way to develop an approach to solving problems which is very useful in science: such as breaking large complicated problems down into smaller independent parts, and using solutions to problems which have already been solved, instead of re-inventing the wheel.
Finally, I'd also recommend reading The Martian by Andy Weir, it's a fantastic novel with heaps of great science in it!