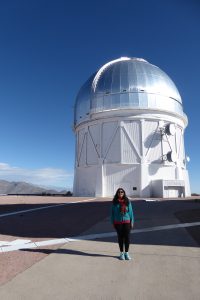 Sunayana is a graduate student at the University of Sussex.
Sunayana is interested in galaxy clusters, and in particular how their observable properties can help us derive cosmological parameters. Clusters are the largest gravitationally collapsed objects and therefore like gigantic cosmic buckets we can treat as representative of our universe as a whole. She uses X-ray data from XMM-Newton and pairs that with optical data from DES. At the moment she is working on how to improve the way masses are calculated for clusters from weak lensing by exploiting X-ray properties.
---
We asked Sunayana a few more questions, here's what she had to say…
What is your favorite part about being a scientist?
I love working as part of a team! When I'm in a room with other scientists and we are talking about working towards a common research goal, speaking in terms we all understand, I find that very exciting.
What motivates / inspires you?
I feel inspired every time I think about how we, over centuries, have successfully parsed the vastness of space and its contents into relations, quantities and models, which have been refined over time. I also just love a challenge and astrophysics is that, peppered with moments of "oh wow!"
Do you have any hobbies or take part in sports?
I love singing, poetry and hiking!
Any advice for aspiring scientists?
Always stay curious. Don't let anyone tell you what you do doesn't matter. Science is a fundamental aspect of the world and any pursuit to understand it in detail is incredibly difficult and valuable (and fun)! Also don't give up on your other passions – they'll no doubt enrich your scientific skills in some way.