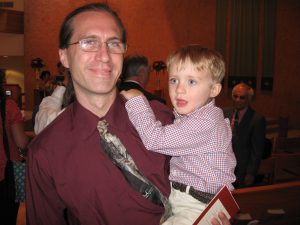 Mike is the co-coordinator of the Shear Pipeline Development and Testing subgroup and more generally an active member of the Weak Lensing Working Group.
---
We asked Mike a few more questions — here's what he had to say:
When did you know you wanted to be a scientist?
I decided in 3rd grade that I wanted to be an astronomer. I didn't even know then that astronomy is applied physics, or that I would happen to be pretty good at physics, or that the job would mostly entail software development, or that I would enjoy that kind of work. I just thought planets were pretty neat. So just lucky I guess, but it worked out.
Do you have any hobbies or play any sports?
I used to play competitive Ultimate, going to regionals many times and nationals once (we placed 9th). My wife and I retired from our mixed team when we had kids, but we still play in the local leagues in spring, summer and fall.
What is your favorite space-related image, and why?
Just about any Hubble image of a planetary nebula. Planetary nebulae are, in my opinion, the most beautiful things in the universe. They come in a wide variety of colors and shapes (depending on the elements in the region around the dying star), but are always quite striking. Also, as is so common in astronomy, the name planetary nebula is a complete misnomer — they have nothing to do with planets — but we keep using that name anyway.
What is your favorite book, movie, and/or TV show?
Gödel, Escher, Bach: An Eternal Golden Braid, by Douglas Hofstadter. It's an amazing book that connects math (specifically Gödel's incompleteness theorems) to art and music and consciousness and what it means to be intelligent and self-aware. Completely mind blowing. The math is deep and important, but presented in a way that a bright, interested teenager could understand.
Do you have kids? Do they want to be scientists too?
3 sons (triplets). They are 9 now, so it's still a bit early for them to think much about what they want to be. But one of them has expressed an interest in archaeology, so maybe.
What do you think has been the most exciting advance in science / technology in the last 10 years?
The block chain. The most well known example is bitcoin, but the fundamental underlying technology that makes it work is called a block chain, and it has the potential to completely revolutionize a lot of online communication. I think people are just beginning to imagine the ways that it could be used to democratize institutions and processes that until now have relied on governments or large corporations to make work.
Any advice for aspiring scientists?
Take classes in software design and algorithm development. It doesn't matter what language you use, but knowing how to design good algorithms is invaluable in just about any field of science nowadays.