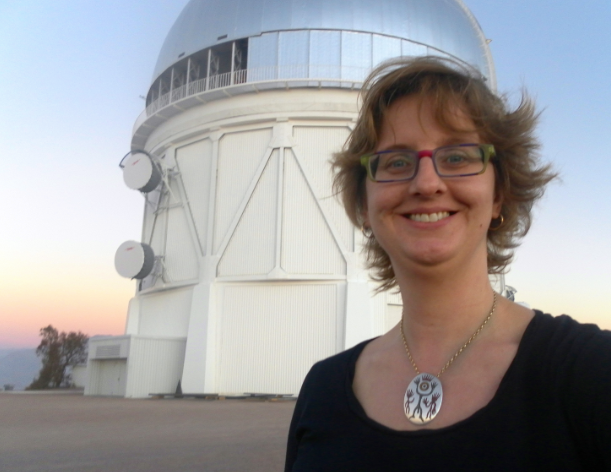 Kathy co-coordinates a working group that focuses on the scientific exploitation of clusters of galaxies detected by DES. Clusters of galaxies are the most massive distinct entities in the Universe and they provide a wonderfully diverse way to test many current theories of astrophysics, cosmology and physics. There about 50 people actively participating in the working group and Kathy's role is to help them get their research into peer reviewed journals. Included in those 50 are Kathy and her PhD students. They are currently using DES clusters to test theories of gravity, the explore the properties of dark matter, and to quantify the relationship between the light and mass.
---
We asked Kathy a few more questions – here's what she had to say:
Do you have any hobbies or take part in sports?
Sports? Gosh no! Despite the fact that I work really hard most of the time, I am naturally very lazy. So, once the work pressure dies down (and it does from time to time, especially in the summer months), I revert to being a couch potato. Given the choice between physical activity or watching TV (especially whilst eating junk food and drinking wine), I'll take TV any day!
Hobbies? Not really. Although, I do enjoy performing stand up comedy. I don't it very often, because it takes me about an hour to craft one minute's worth of material, and I'm usually too busy with other things to invest that amount of time. But, writing this makes me realise it is about time I wrote another routine during my long trip back to the UK from Chile (I am observing this week for DES).
If you weren't a scientist, what would your dream job be?
A police detective.
Do you have kids? Do they want to be scientists too?
I have two sons (12 and 15). So far, neither seems particularly keen to follow in their parents' footsteps (their Dad is an astronomer too)!
But I get to know our undergraduates (in the Department of Physics and Astronomy) very well over the course of their four years of study (they aren't our "kids", but we are still very proud of them). Many of our graduates go on to PhD study in Physics and Astrophysics. In fact several Sussex graduates are now working on the Dark Energy Survey (at Sussex and elsewhere within our international collaboration).
Thinking back to when you were an undergrad in physics (if applicable), was there anything you were taught then that is not taught now?
Way back then, we were taught that neutrinos had no mass. Seems so silly now! it goes to show that we need to continuously challenge our preconceptions. Another good example of that is Dark Energy: before the supernova experiments of the late 1990's there were only a handful of cosmologists that were brave enough to predict that the expansion of the Universe could be accelerating.
Any advice for aspiring scientists?
Most importantly, ignore any advice that doesn't resonate for you, including: Just because something is difficult, doesn't mean it is interesting. Likewise, just because something is straightforward, doesn't mean it is boring (or has already been done by someone else).