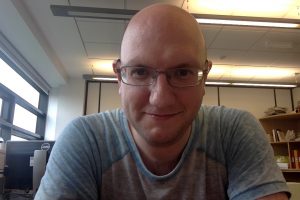 Joe's primary research interests are weak lensing and cosmological parameter estimation.
He's worked for about 5 years measuring the shapes of galaxies, so that we can see how those shapes have been distorted by gravity from the intervening Dark Matter. He also writes computer programs to look at images of galaxies and see how stretched out they are.
Joe also works on using other programs to use the statistics of the patterns we see in these shapes to help us constrain the laws and number of cosmology, by comparing what we see to what a particular theory predicts, exploring abstract conceptual parameter spaces to find how well a hypothesis can do.
---
We asked Joe a few more questions — here's what he had to say:
What motivates / inspires you?
Other people. Although I really enjoy problem solving and find the grandness of astronomy to be incredible, I ultimately get the most out of, and am most driven by, working with collaborators to do amazing science and trying to make tools that are useful to them and the wider community.
What is your favorite book, movie, and/or TV show?
There are some movies that you can like but fully understand why other people don't like them. For example, I really like Tarantino movies – I think they're exciting and have an incredible stylised aesthetic. But I totally get that they're not everyone's thing – I can absolutely see why people might dislike or even hate them. But if you don't think The Blues Brothers is the best movie ever made then I think you're insane.
Do you have kids? Do they want to be scientists too?
No. I used to have some pet rats but their main interests were jumping onto things and eating buttons.
Any other fun fact you'd like to share?
If you're more than an inch or so taller than me then you're weirdly tall.
Also you can listen to me be informative and funny about weak lensing (along with several other more talented people talking about other parts of cosmology) on this podcast from the Oxford SciBar "Journeys in an expanding Universe": https://t.co/cs9BUnfHAg
Any advice for aspiring scientists?
I forget who told me this, but the best piece of advice I ever got about science was about what to do when you get stuck. If you hit a wall then usually it's because you've underestimated the difficulty of the thing you're trying to do. If you think something should be easy then you try to "just do it", without thinking about it too much. Then if it's actually harder than you think then you just get stuck. The solution was to stop, take a step back, and evaluate what you're trying to do more logically.