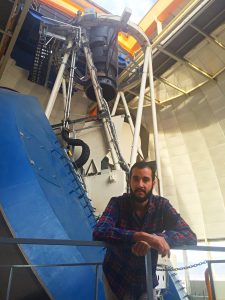 Dillon is passionate about measuring the nature of dark energy using both supernovae and gravitational wave merger events.
As a part of the DES supernova team, Dillon models supernovae dynamics, environments and telescope effects in order to accurately measure their brightness. More accurate brightnesses of supernovae will enhance our understanding of the dynamics of universe in which they live. Ultimately this should allow us to use DES to test dark energy more accurately than ever before.
Additionally, Dillon is pioneering the development of a technique to use gravitational wave signals from black hole and neutron star collisions to measure the current value for the expansion rate of the universe. Since this method uses a combination of both gravitational signals and optical signals, it will measure the properties of dark energy in a new and completely independent way to complement our current picture of dark energy.
---
We asked Dillon a few more questions — here's what he had to say:
When did you know you wanted to be a scientist?
In high school I read the book called "The First Three Minutes" by Steven Weinberg (which I highly recommend to anyone at any skill level with a remote interest in cosmology). While it was an excellent introduction to cosmology and the big bang for a high schooler, at the time it was quite dated, having been written in the 80's, and didn't include Dark Energy or any discussion of the accelerating universe. While I thought the subject matter was super interesting, I wasn't totally convinced at the time that I wanted to be a scientist.
When I got to undergrad and spoke to my very first physics professor who said to me something along the lines of "Yes you've read Weinberg's book but have you heard about Dark Energy?" My mind was completely blown and my picture of the universe was turned upside-down! It was at that moment that I realized I wanted to dedicate my life to the understanding of the dynamics of the cosmos.
What motivates / inspires you?
In my formative high school years I was greatly influenced by my great uncle Robert Brout who, before his passing, became famous for his theorization of the Brout-Englert-Higgs Boson. His excitement and enthusiasm for physics and cosmology was contagious and I strive to emulate that every day.
Do you have any hobbies or play any sports?
I'm passionate about jazz saxophone and play in several jazz/funk/soul bands touring throughout the east coast USA.