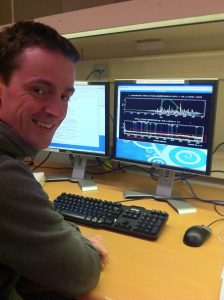 At the University of Sussex, David was part of the DES supernova project, looking at predicted constraints on the dark energy from using supernovae as standard candles. Now at the University of Queensland, he is part of the OzDES survey, making follow-up observations of DES galaxies using the AAOmega spectrograph on the 3.9m Anglo-Australian Telescope.
---
We asked David a few more questions — here's what he had to say:
What is your favorite part about being a scientist?
My favorite part of being a scientist is thinking about the big questions of why the Universe is the way it is. Why do we think our theory of gravity is the correct one? Why does the Universe have only three spatial dimensions, not two or forty-seven? And I enjoy the process of finding things out, of using my mind to learn something new, based on logic and mathematics.
When did you know you wanted to be a scientist?
I grew up learning about space travel and astronomy from my Dad, who worked as a rocket engineer. But I didn't actually want to be a scientist growing up. Originally I wanted to be an archaeologist! But learning about modern physics (cosmology, quantum mechanics) as a teenager I changed my mind, and went into astrophysics instead.
Do you have any hobbies or play any sports?
I play a lot of board games. One of my favourites is "Ticket to Ride" (where the aim is to build as many train lines as possible), which me and my wife play a lot. Board games have come a long way, and are a lot more fun than the fairly dull games I remember from my childhood.
If you weren't a scientist, what would your dream job be?
I can't really imagine not being a scientist, but if I wasn't I would like to be a writer. Fiction or non-fiction, books or screenplays, it doesn't matter – it would be great to be a professional writer.
Any other fun facts we should know?
I was observing at the Anglo-Australian Telescope during the bush fires that threatened Siding Spring Observatory in January 2013
http://www.space.com/19254-australi…
. They actually had to evacuate us from the site! It is scary to be told "The mountain you are standing on is on fire. Please leave as quickly as you can."
Any advice for aspiring scientists?
Science is a hard field to work in, and requires a high degree of dedication. If you're very interested in science, but happy just to read about it in the newspaper, maybe think about a different career. But if you *need* to find things out for yourself, then science can be an incredibly rewarding and satisfying career path.